Conference Logistics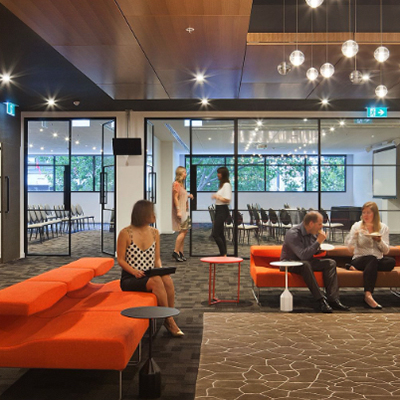 Jasper Hotel
489 Elizabeth Street, Melbourne CBD
We look forward to welcoming everyone to our new conference venue and we can't wait for you to enjoy the experience with us.

Conveniently located adjacent to the Queen Victoria Market and an easy walk from Melbourne Central Station, the Jasper Hotel is very easy to access.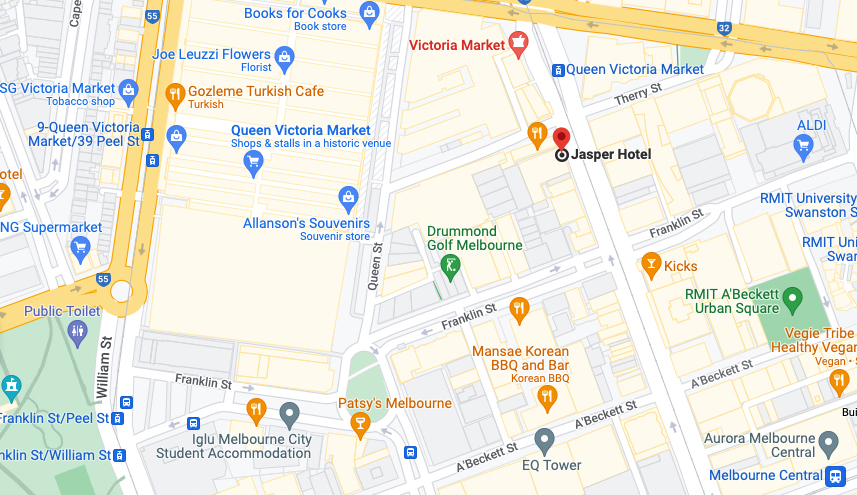 TRAM
Trams run along Elizabeth Street and Victoria Street. Stops are located less than five minutes' walk to the venue.
TRAIN
The venue is a five-minute walk from Melbourne Central Station via the Elizabeth Street exit.
CAR
Hotel Parking
Car parking is not available onsite at Jasper Hotel. However, the Jasper Hotel has formed a partnership with Queen Victoria Market Undercover Car Park.
Queen Victoria Market Parking Undercover Parking – Conference/Hotel Guests Special Rates
456 Queen Street, Queen Victoria Market - Undercover Car Park Levels B3 and B4 only.
To access the special parking rates, conference attendees and hotel guests must park on Levels B3 or B4 only. Collect a parking voucher from Jasper Hotel reception to access one of the following discounted rates:

Short term - $29 per day for Hotel guests from 11am to 12pm (following day)
Conference Attendees - $25 per day for Conference guests from 7am to 7pm
Long term - $24 per day for Hotel guests only (+7day) from 11am to 12pm

No car parking ticket is required upon entering the car park as licence plate recognition is used. To exit the car park, scan the parking voucher provided by the hotel.
Queen Victoria Market Parking – Open Air
Ample parking spaces are available at the Queen Victoria Market a short four-minute walk from the conference venue. For details on how to access parking and parking rates visit the QVM website: https://qvm.com.au/parking/

Some sessions may require the use of a device – such as a tablet or smartphone – to access some of the presenter's content. Look out for the following symbol in the program:

BYOD – Bring your own device to this session

Tea and coffee are available on arrival. Morning tea and lunch are included in the registration fee. Those with special dietary requirements should indicate their needs when registering online.

You can follow the conference on Twitter! Keep an eye out for #htavAC23 and join the conversation.

Follow HTAV on social media to get the latest information on what's happening in History teaching.

If you have any special needs or mobility issues, please contact Myra Karantzas (HTAV Events Manager) via email: m.karantzas@htav.asn.au.
Jasper Hotel (conference venue)
489 Elizabeth Street, Melbourne | 03 8327 2758
There is a special rate for attendees. Please use the promotional code EV10 when booking accommodation to receive 10% off corporate rates.
Follow the steps below to secure your discounted conference rate:
Step 1: Go to the hotel website www.jasperhotel.com.au and select your check-in and check-out dates.
Step 2: Select 'Got a promocode' then 'Rate Access code' from the drop-down list.
Step 3: Type in the code EV1O and select ADD.
Step 4: You will be taken to the room types available. Select room type and complete the reservation process.

HTAV and Jasper Hotel are committed to ensuring everyone's safety at the conference. Sanitising stations will be available, and we encourage our attendees to bring and wear a mask.

We request that anyone experiencing cold or flu-like symptoms does not attend the conference, and to contact HTAV to discuss a refund under these circumstances.

For information about how Jasper Hotel keeps the community safe, please visit the Jasper Hotel Health and Safety website.

COVID SAFETY
It is a requirement of all in-person events that HTAV staff, exhibitors, presenters and event delegates follow directions issued by Victoria's Chief Health Officer, COVID government requirements and recommendations, and venue safe practices. HTAV will endeavour to provide delegates with current COVID information; however, this is subject to change at any time without notice. Please visit the following websites for further information: www.dhhs.vic.gov.au/coronavirus and www.coronavirus.vic.gov.au.

Please contact HTAV at events@htav.asn.au.

Social Hour will be held at Jasper Kitchen, conveniently located in the conference venue.

Be part of the warmth, humour and generosity that happens when History teachers gather.

The great bonus of attending a conference is the opportunity to connect and chat with your professional community. Catch up with old friends and colleagues, meet new people, harvest good ideas, and join the fun at the VCE History Conference Social Hour.
27 Jul 23

9.00am - 5.30pm

27 Jul 23

10 Sep 23

10.00am – 11.00am

10 Sep 23

10 Sep 23

10.00am – 11.00am

10 Sep 23