NOTE: Whilst every effort is made to process orders promptly, allow 7 working days for goods to be dispatched.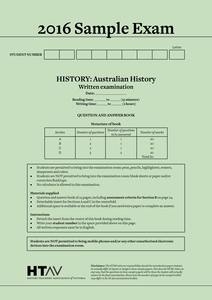 2016 HTAV Australian History Sample Exam - instant download
Publisher: HTAV
Item number: 1640
AU $17.50

(incl GST)
These sample exams can be printed out for students at the purchasing institution only
HTAV's 2016Sample Exam for Australian History was written by experienced teachers. Its format and wording follow the 2016VCAAexaminationspecifications and sample examination. AGuide to Responses is available for purchase separately from our Resource Shop.
SAMPLE EXAMS ARE AVAILABLE IN PDF FORMAT ONLY. You must download your exam immediately after purchase online (you will not be able to go back and access it later).
To download your sample exam:
Click on the blue 'Download Area' button on the order confirmation page. A pop-up window will provide the links to download the sample exam. You will not have another opportunity to download.