NOTE: Whilst every effort is made to process orders promptly, allow 7 working days for goods to be dispatched.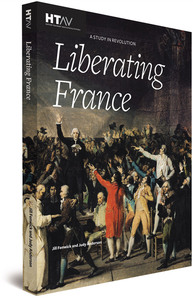 Clearance - Liberating France, 1st edition
Publisher: HTAV
Length: 328pp (dimensions 27cm h x 20.5cm w)
Item number: 609
ISBN: 9781875585977
AU $50
AU $10.00

(incl GST)
'Liberating France tells the story of the French Revolution with great clarity and verve. Fenwick and Anderson know that all revolutions have their moments of horror as well as grandeur, and have not shied away from confronting students with awkward questions about the capacity of humans for violence against their fellows ... There are surprising insights and details which enliven the story ... An outstanding student resource.' (Prof. Peter McPhee, author of The French Revolution 1789-1799 and Living the French Revolution.)
Liberating France features:
Comprehensive narrative
Rigorous activities
Colour insert on David's Oath of the Tennis Court
Primary and secondary sources
Timeline
Historiography
Maps and diagrams
Trivia boxes
Glossary
Who's who in the French Revolution?
Annotated bibliography
Index.
VIEW SAMPLE CHAPTER HERE
VIEW LIST OF CONTENTS HERE