NOTE: Whilst every effort is made to process orders promptly, allow 7 working days for goods to be dispatched.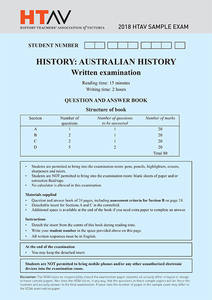 2018 HTAV Australian History Sample Exam + Responses Guide pdf downloa
Item number: 1840
AU $35.00

(incl GST)
$45.00 Now only $35.00!
Available in pdf format only.
HTAV's 2018 Australian History Sample Exam and Guide to Responses was written by experienced teachers. Its format and wording follow the VCAA examination specifications and sample examination.

HTAV sample exams can be printed out for students at the purchasing institution only.