HTAV News
Launching the 2021 Annual Conference!
28 May 21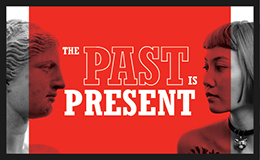 HTAV 2021 Annual Conference – The Past is Present
Wednesday 28 & Thursday 29 July 2021
Metropolis Events, Southbank
Early bird rates apply up to midnight on Wednesday 14 July.
For the rates for registrations completed after midnight on Wednesday 14 July – please add $50 to all rates.

Registrations close Tuesday 20 July.

The HTAV 2021 Annual Conference, themed The Past is Present, will feature an impressive range of workshops, lectures and practical seminars that will provide ideas for engaging classroom strategies, activities and pedagogy to help build on the learning outcomes of students.

Join us on an informative and insightful History journey and share in the unique spirit when the History community comes together.

Confirmation emails with session allocations and full event details will be issued once registrations close.

Should COVID-19 restrictions affect our ability to safely hold the conference in a physical setting, the conference will be delivered online as a virtual conference on the same dates.
28 Jul 21

8.45am - 5.30pm

28 Jul 21

12 Sep 21

10.00am – 2.50pm

12 Sep 21

12 Sep 21

10.00am – 1.30pm

12 Sep 21