NOTE: Whilst every effort is made to process orders promptly, allow 7 working days for goods to be dispatched.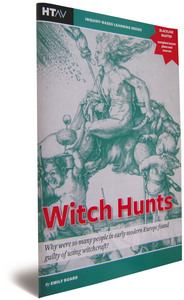 Witch Hunts (Inquiry-Based Learning Series)
Publisher: HTAV
Length: 44pp plus CD
Item number: 0909
ISBN: 978 1 875585 89 2
AU $55.00

(incl GST)
Why were so many people in early modern Europe found guilty of using witchcraft?
A complete blackline master unit of work for teachers.
The HTAV's Inquiry-Based Learning Series offers a range of ready-made units of work for History teachers. Each unit is based around a set of exciting inquiry questions, which can be answered by examining the sources provided.

Students become active learners as they make predictions, study evidence, respond creatively and argue points of view.

These blackline masters can be printed from CD and used straight away. No further resources required.

FEATURES
Primary source documents and images
Historical context
Learning objectives and outcomes
Stimulating inquiry questions
Step-by-step lessons that can be followed or adapted
Activities for a range of learning styles
Assessment tasks
CD of sources for easy printing
Click HERE to see a sample.