NOTE: Whilst every effort is made to process orders promptly, allow 7 working days for goods to be dispatched.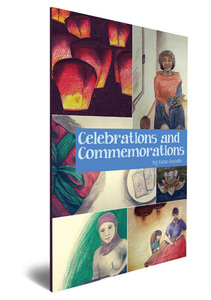 Celebrations and Commemorations pack (clearance)
Publisher: HTAV
Length: 48pp book (6 copies) plus IWB-compatible CD
Item number: 1251
AU $45
AU $10.00

(incl GST)
An illustrated storybook with IWB activities which combines Literacy and History for Middle Primary students. Written for Australian Curriculum/AusVELS. (Sample below.)
Price is per pack. Each pack contains 6 print books (48pp) + IWB-compatible CD. The CD contains interactive activities, curriculum advice and further ideas.
About the book
This illustrated colour storybook follows several children as they join in key celebrations and commemorations in Australian life:
Chinese New Year
Australia Day
Anzac Day
Ramadan
The Moon Festival
Diwali
Hannukah
Christmas
Easter
Sorry Day
Harmony Day
NAIDOC Week.
Each character learns something about Australia and its place in an interconnected world.
Students can read the storybook, interact with it on screen and complete enjoyable activities that build their literacy and historical knowledge.

Make learning fun for your students!
VIEW SAMPLE PAGES and IWB MATERIAL HERE.