NOTE: Whilst every effort is made to process orders promptly, allow 7 working days for goods to be dispatched.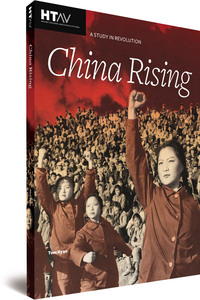 Clearance - China Rising, 1st edition
Publisher: HTAV
Length: 348pp (dimensions 27cm h x 20.5cm w)
Item number: 607
ISBN: 978-1-875585-90-8
AU $50.00
AU $10.00

(incl GST)
What students say about China Rising:
'This was the best book I used in Year 12.'
'It has great historiography.'
'The story could have been complex but it was told in an accessible way.'
'I didn't sell the book when I finished the course - I had to keep it.'
Dr. James Leibold from La Trobe University says:

'The rich details and complex twists and turns of China's long twentieth century are vividly chronicled in China Rising. Written in a lively and engaging style, drawing on recent and cutting-edge scholarship, the book will help a new generation of Australians to understand better China's place in the world and some of the powerful ways in which the past continues to shape China.'
China Rising examines China from the late Qing period through to the death of Mao Zedong. Written by an experienced and innovative history teacher, it is an essential stand-alone text on the Chinese Revolution.
Each chapter contains:
Timeline
Photographs
Primary sources
Historiography
Varied activities
Extension tasks
Exam practice
Did-you-know-boxes.
The book also features:
Maps
Diagrams
Glossary
Index
Annotated bibliography
Who's who in the Chinese Revolution?
IB materials.
VIEW SAMPLE CHAPTER 2 HERE
VIEW SAMPLE CHAPTER 3 HERE
VIEW LIST OF CONTENTS HERE